Sync and Share Data Automatically with QuickBooks
Invoices, Purchase Orders, & Inventory changes updated immediately in QuickBooks Online.
No more double entry. Automatically sync customers, products, & services. 
Pay invoices in integraRental, updated instantaneously in QuickBooks Online.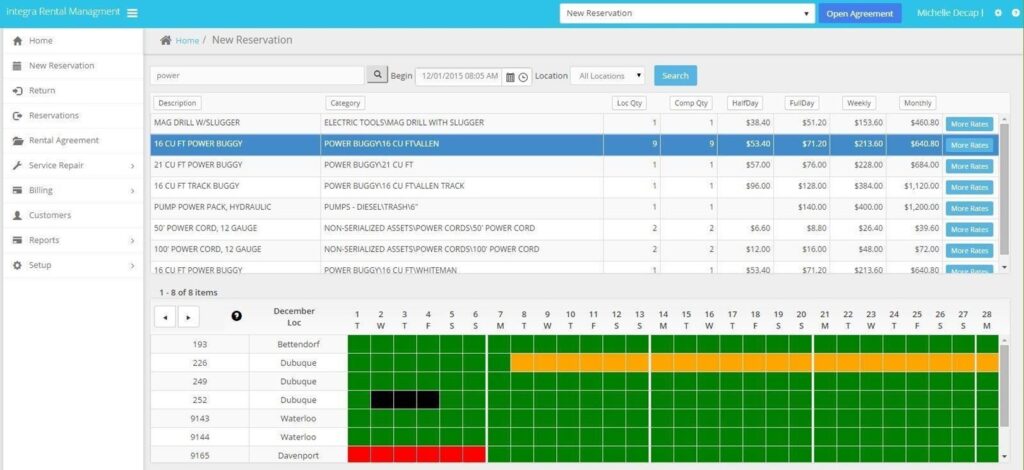 Grow Revenue with Rental Availability Management
28 Day availability and hourly view allows for quick assessment of every item in the rental inventory.
Maximize the rental longevity of each asset by using up to date rental and maintenance information.
System generated overages are correctly charged to the customer at check-in.
Optimize Costs with Scheduled Maintenance
Preventative maintenance extends the life of each piece of rental equipment allowing maximum rental time!
A pro-active approach to maintenance can reduce the number of assets needed in your rental fleet.
Get Paid Faster with Integrated Billing
integraRental integrates with QuickBooks for integraERP for billing, customer information, parts inventory, products and billing codes allowing a whole business view including financials, revenues and general ledger.
Interim rental billing allows you to bill for the month once the weekly charges exceed or equal monthly rate.
Reduce Errors at Check-out/Check-in
Unlimited customizable asset attributes for check-out/check-in ensures assets are ready for next rental.
Meter usage and fuel charges automatically calculate overages at return.
Service ticket created at return enables assets will be repaired & returned to rental fleet quickly.